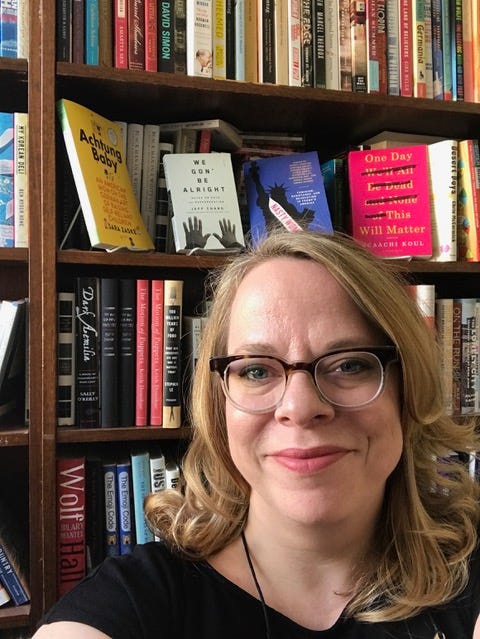 Fourteen years ago, I started my first blog and promptly stopped sending group emails to my friends. Eventually, I guess everything comes full circle.
If you're here, it's probably because you already know my work and like my voice enough to consider paying $5 a month for it. If you don't, here I am at Electric Literature, The Toast, The Millions, Bitch, Dame, and The Minneapolis Star-Tribune, doing the kind of writing you can expect to see here. A bit of personal essay, a bit of cultural criticism, some ice cold takes on whatever I'm reading. Lotta feminism, lotta dogs.
I used to be funny, but now I'm sad and angry pretty much all the time. I'm currently working on a book about American attitudes toward victims and victimhood, which will inevitably make its way into my dispatches. That's me up there, in my editor's office, sitting in front of a book I co-edited and two I wish I could have written. (I haven't read Achtung Baby yet.) I also wrote this book about rape culture.
If you have any other questions about what you're signing up for, you can get a whole lot of me on Twitter, where I work every day to make myself a little bit less employable.

Subscribe to Feminism & Dogs