Here Are Some Things I Did in the Last Decade
Got a Ph.D.
Wrote, co-wrote, or edited three books, and sold a fourth.
Won an essay contest judged by one of my nonfiction heroes.
Published a whole bunch of op-eds and a few essays.
Shut down my blog.
Performed in several Chicago live lit shows.
Taught a bunch of creative writing classes.
Was Distinguished Visiting Writer at a college.
Was a finalist for a Minnesota Book Award.
Moved from Chicago to Minneapolis.
Moved from Minneapolis to Ithaca.
Worked at an Ivy League university for a year.
Moved from Ithaca to Miami.
Moved from Miami back to Chicago.
Spoke at more than a dozen colleges on sexual violence, including to a crowd of 1,000 Tulane students who had read Asking for It as their freshman read.
Made some new friends.
Kept some old friends.
Stayed married.
Had my first-ever surgery (hysterectomy).
Had my second-ever surgery (cheilectomy with Cartiva implant).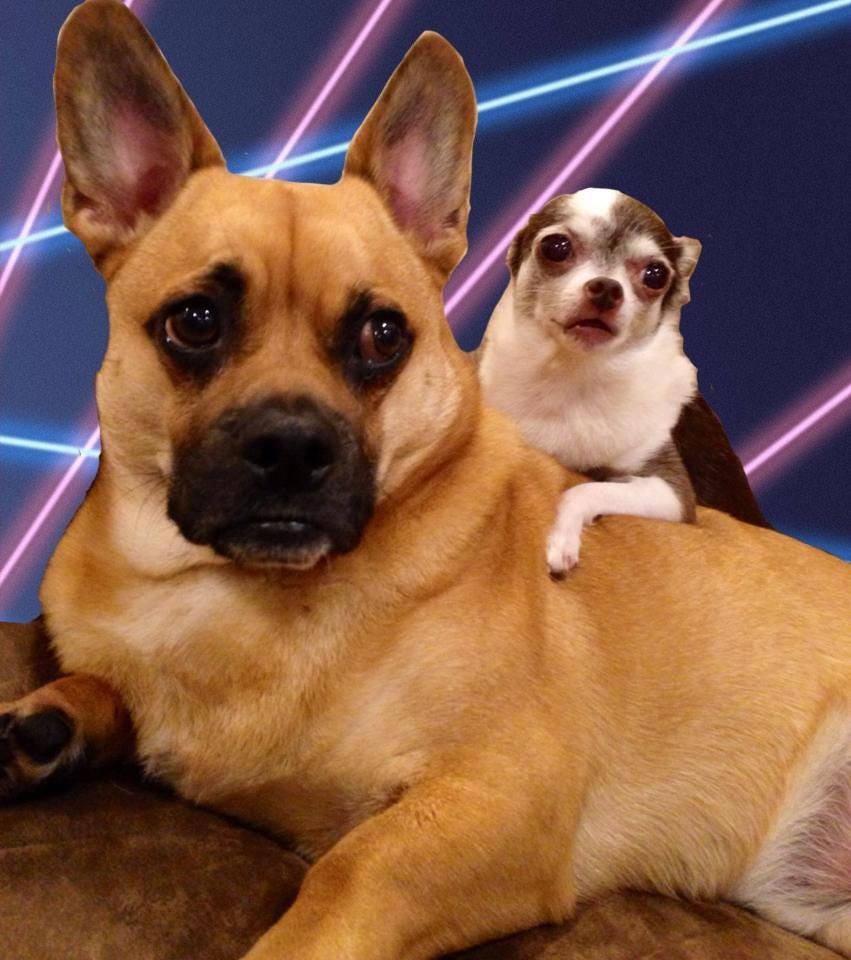 (Laser photoshop by Deanna Zandt)
Adopted two dogs (Murray and Zsa Zsa).
Put two dogs to sleep (Solly and Zsa Zsa).
Fostered four dogs who found good homes elsewhere (Castro, Petey, Noodles, and Lily Pad.)
Bought a condo with Al.
Here Are Some Things I Did Not Do in the Last Decade
Make it past the phone interview stage for an academic job.
Get any of the fellowships I applied for.
Convince anyone other than dear friends that I am a highly educated writer with a broad and deep literary skill set, who happens to get paid most often for general nonfiction—as opposed to (just) a hack with notions.
Finish writing that fourth book by the first deadline.
Finish the novel that was originally supposed to be my Ph.D. dissertation.
Have children. This was on purpose but still seems like it belongs on the list.
Make more money than I made in 2000, which was not that much money.
Produce a weekly, or bi-weekly, or monthly newsletter.
Here are Some Books I Loved Reading in 2019
An American Marriage, by Tayari Jones
Catch-22, by Joseph Heller
Catch & Kill, by Ronan Farrow
Good Talk, by Mira Jacob
The Friend, by Sigrid Nunez
No Visible Bruises: What We Don't Know About Domestic Violence Can Kill Us, by Rachel Louise Snyder
Savage Appetites: Four True Stories of Women, Crime, and Obsession, by Rachel Monroe
There There, by Tommy Orange
Women Talking, by Miriam Toews (which I actually read in 2018, but it didn't come out in the U.S. until this year, so I'll count it)
The Word Is Murder, by Anthony Horowitz
I set myself a Goodreads Challenge to read 50 books this year, and at this writing (Monday evening), I've read 49. I have a stack of short and half-read books ready for tomorrow, because I'm not going to miss it by one. Anyway, these are the ones that leapt out at me as most enjoyable/memorable/moving when I looked at the whole list.
Here Are Some TV Shows I Loved In 2019
Fleabag
Season One is enjoyable. Season Two is transcendent. Both can be binged in a weekend.
The Morning Show
I'll be honest—for the first little while, I wasn't totally confident they were going to do this story (basically, NBC covering up for Matt Lauer) justice. But after watching the whole season, I came away amazed by the nuance and depth they conveyed in 10 episodes. It helps if you can immerse yourself in this particular story about these particular characters, instead of constantly wondering what really happened and what didn't. Angry, unlikable Jennifer Aniston is a revelation.
Unbelievable
The first episode is very rough to watch—because it's a true, gruesome story about a young woman's rape and retraumatization by disbelieving police—but it's beautifully acted and a necessary preface to the magic to come.
Watchmen
I really wasn't sure at first, because I am not a huge fan of the source material. I'm glad I listened to the internet, so I didn't miss one of the most inventive and unsparing shows I've ever seen.
For All Mankind
The first two episodes are perfectly fine TV that seems to be telling yet another well-crafted story about midcentury white men. Then it takes a turn and becomes something so much cooler.
Apparently, all the TV I love most is TV I didn't love at first.
Here Are the Best Movies I Saw in the Theater in 2019
Captain Marvel
Rocketman
Once Upon a Time… In Hollywood
Hustlers
Knives Out
I saw almost nothing arty or traditionally girly this year. (I haven't even seen Booksmart yet!) Instead, I saw a lot of action and superhero movies, because I like them, and Al doesn't like much of anything else. I think I am going to go to movies by myself more often in 2020.
Here Are Some Things I Bought in 2019 that Give Me Joy Disproportionate to the Price
Earmuffs
Between perimenopause (I still have ovaries) and this weirdly mild Chicago winter, I usually run too hot if I wear a hat, and too cold if I don't. I am not even going to tell you how long it took me to figure out this obvious solution, but it's real good.
Airpods
They stay in my ears so much better than expected! (Except when lying down, which does suck a bit.) The battery lasts forever! I can set my phone down and walk all over the apartment while listening to a podcast Al can't hear and thus can't disparage! Also, real talk, I would not have made it anywhere near the 50-book goal this year without audiobooks. I listened to most of those on my Airpods.
Bean's Cozy Pullover
On the one hand, it's a $60 sweatshirt. On the other hand, I work at home and look great in a cowl neck. This thing is so warm and soft, and it has thumb holes. I have paid much more for much less joy.
Tickets to the Joffrey Nutcracker
I hadn't been to the ballet at all, let alone this one, in 30+ years. Felt like a kid in all the best ways.
Cross-Stitch the Golden Girls, by Haley Pierson-Cox
Included with the pattern book are supplies to make two of the designs, and that was all I needed to start doing needlework again for the first time in decades. It became a welcome alternative to match-3 games and compulsively refreshing Twitter—but alas, the wrist pain it caused was even worse, so I'm on a break at the moment.
That's It
Happy New Year to you and yours! I made the newsletter completely free for new sign-ups, and I'm going to try to be on social media much less this year, so I'll see you around here. Sporadically.
Love,
Kate